3.10 | Gdynia Language Swap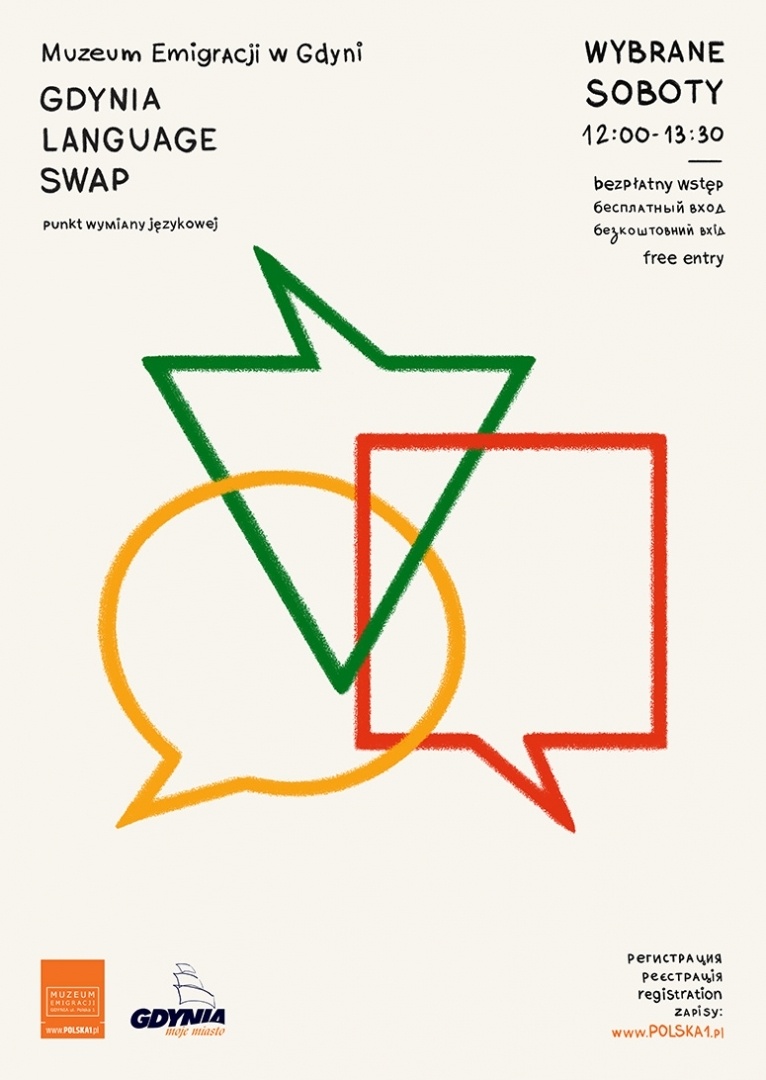 English version below | Українська версія нижче | Русская версия ниже
Gdynia Language Swap. Punkt wymiany językowej. | Wstęp wolny

Wydarzenie jest organizowane z zachowaniem wszystkich wymogów sanitarnych.

Chcesz poćwiczyć języki obce, a przy okazji poznać nowych ludzi podczas pogawędki przy kawie?
Dołącz do naszego punktu wymiany językowej! Zapraszamy zarówno obcojęzycznych mieszkańców Trójmiasta, jak i osoby, które w zamian za konwersacje w wybranym języku, mogą pomóc w ćwiczeniu języka polskiego.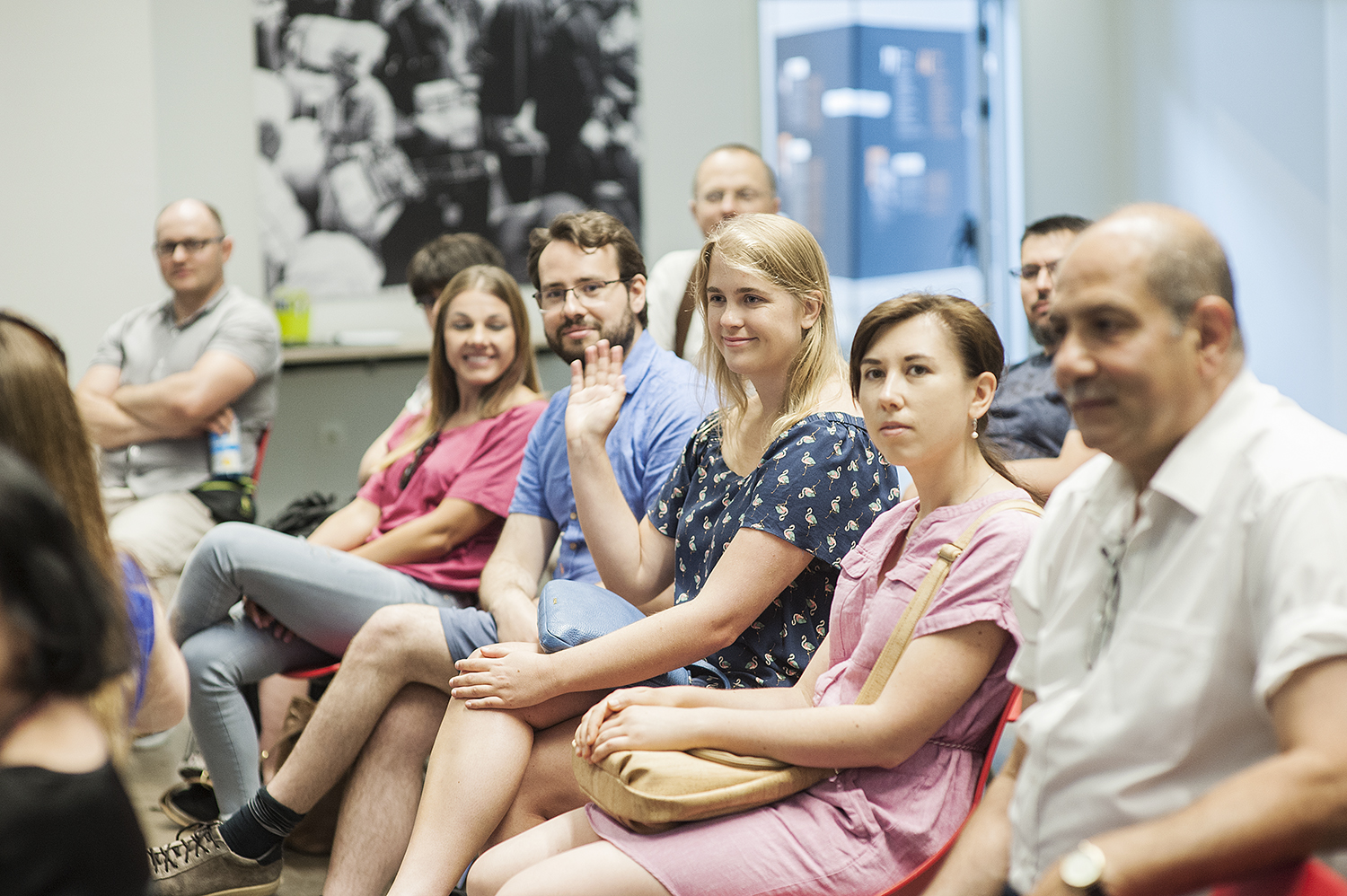 W Muzeum Emigracji w Gdyni stwarzamy przestrzeń do spotkań, wymiany doświadczeń i nauki języka obcego zupełnie za darmo. Co powiesz na to, żeby wcielić się w rolę nauczyciela i ucznia tego samego dnia? Jeżeli interesuje Cię wzięcie udziału w takiej językowej wymianie, zgłoś się do nas wypełniając formularz online: http://bit.ly/GdnLandSwap
Dołącz także do wydarzenia na FB.
My dobierzemy Ci partnera do wspólnej konwersacji na podstawie określonych przez Ciebie potrzeb oraz Twoich predyspozycji.
Jeśli chcesz przyjść ze znajomymi lub znasz kogoś, kto dopiero osiedlił się w Trójmieście – zabierz go ze sobą! Stworzona przez nas przestrzeń umożliwi Wam ciekawie spędzić czas w międzynarodowym towarzystwie. Zapewniamy miłą atmosferę, poczęstunek i kawę lub herbatę. Jeśli pogoda na to pozwoli, spotkania odbywać się będą na muzealnym tarasie. Gdynia Language Swap moderowany będzie przez Anę Matusevic.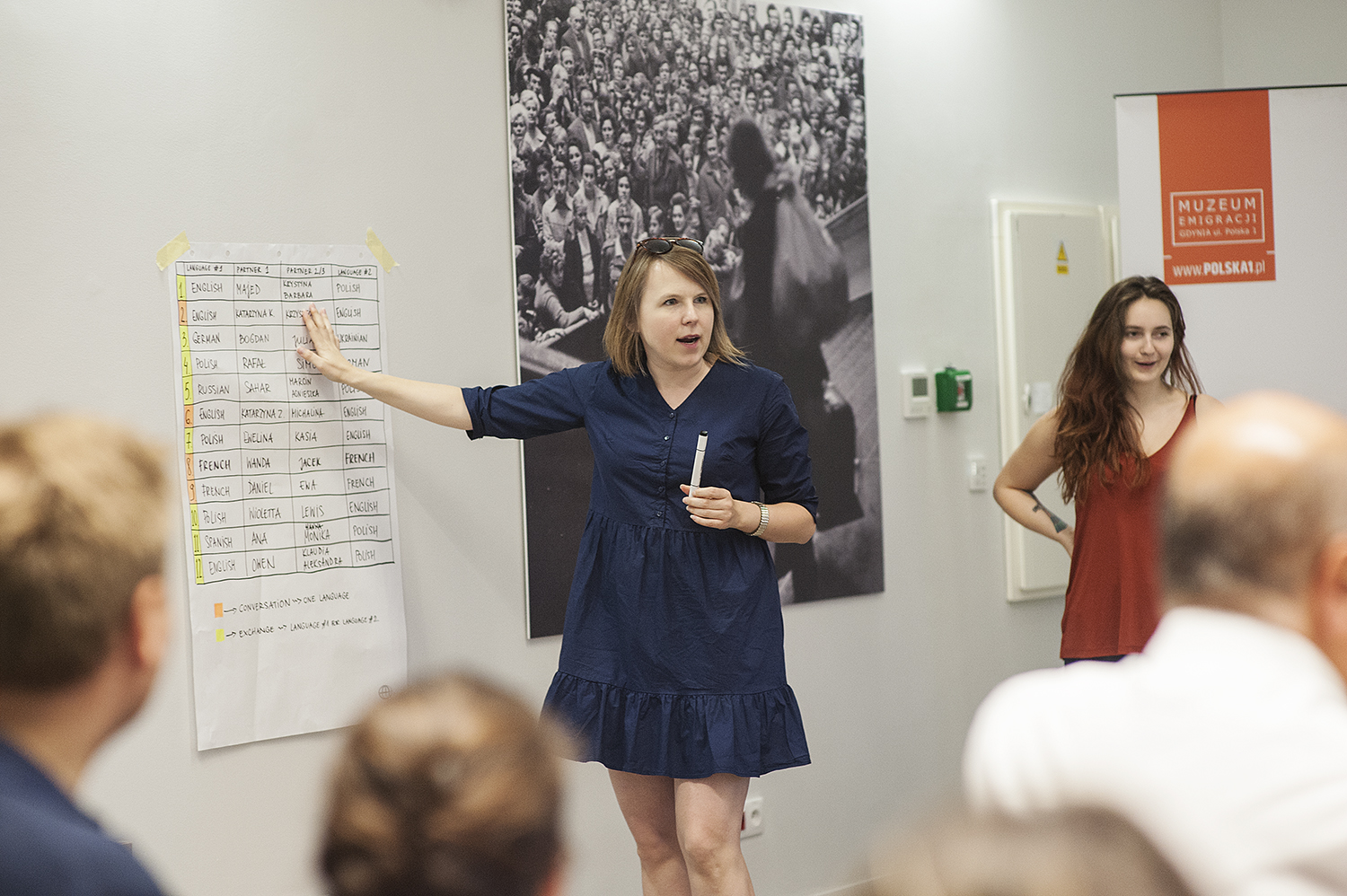 Moderująca spotkanie Ana Matusevic. Fot. Bogna Kociumbas
Ana Matusevic. Absolwentka filologii rosyjskiej i politologii na Uniwersytecie Gdańskim, ukończyła studium Zarządzania organizacjami pozarządowymi w Wyższej Szkole Bankowej w Gdańsku. Wcześniej tłumaczka i koordynatorka projektów skierowanych na rozwój społeczeństwa obywatelskiego, obecnie specjalistka ds. promocji i organizacji projektów literackich w Instytucie Kultury Miejskiej, m.in. Europejskiego Poety Wolności i Spotkań Tłumaczy Literatury Odnalezione w tłumaczeniu. Uwielbia reportaż oraz kino dokumentalne. Po godzinach odkrywa świat fotografując ludzi i miejsca, prowadzi stronę www.JakMalowany.pl, współorganizuje TRAMPki – Spotkania Podróżujących Kobiet.
—
Informujemy, że dla zachowania bezpieczeństwa sanitarnego Muzeum wprowadziło nowy regulamin zwiedzania. Więcej informacji: http://www.polska1.pl/pl/dzialania/aktualnosci/zmiany-w-regulaminie-zwiedzania
***

Zgodnie z Rozporządzeniem Parlamentu Europejskiego i Rady (UE) 2016/679 z dnia 27 kwietnia 2016 r. w sprawie ochrony osób fizycznych w związku z przetwarzaniem danych osobowych i w sprawie swobodnego przepływu takich danych oraz uchylenia dyrektywy 95/46/WE (ogólne rozporządzenie o ochronie danych) (dalej "RODO") uprzejmie informujemy, iż dokonanie zgłoszenia uczestnictwa oparte jest na Państwa dobrowolnej zgodzie na przetwarzanie Państwa danych osobowych ujętych w zgłoszeniu. Przesłanie zgłoszenia równoznaczne jest z wyrażeniem takiej zgody na przetwarzanie danych osobowych, którą mogą Państwo w każdej chwili wycofać (kontakt na adres: iod@muzeumemigracji.pl). Klauzulę informacyjną związaną z procesem przetwarzania danych osobowych znajdziecie Państwo tutaj.
Gdynia Language Swap. Language swap meeting. | free admission
Do you want to practice foreign languages and meet new people while chatting over coffee?
Join our language swap meeting. We kindly invite foreign Tri-City citizens, as well as people who, in return for practicing conversations in foreign languages, could help others to learn Polish.
We are creating a space in the Emigration Museum in Gdynia, which will serve as a place for meetings, sharing experiences and language learning, completely free of charge. What would you say to being a teacher and a student at the same time? If you are interested in participating in such a language swap, sign up using our online form: http://bit.ly/GdnLandSwap
We will assign you a language partner for mutual conversation, based on your individual needs and language attitude.
If you feel like inviting your friends, or know somebody who has just arrived in Tri-City – bring them along! The space we are making available will allow you to hang out with an international group of people. We provide a lovely atmosphere, snacks, coffee or tea. If the weather allows, the meetings will take place at the Museum's patio. Gdynia Language Swap will be moderated by Ana Matusevic.
Ana Matusevic. A Russian philology and political science major at the University of Gdańsk, she has also graduated in Non-governmental organization management studies at Wyższa Szkoła Bankowa in Gdańsk. Earlier in her career, she used to work as a translator and a manager of projects related to the development of civil society, currently she is a specialist for organising and managing literary projects at the City Culture Institute in Gdańsk, i.e. European Poet of Freedom and The Gdańsk Meetings of Literary Translators Found in Translation. She loves feature stories and documentaries. In her spare time, she discovers the world by taking photos of people and places, manages a website: www.JakMalowany.pl, co-organises TRAMPki – meetings of female travellers.
Gdynia Language Swap. Мовний пункт обміну | вхід вільний
Вам цікаві нові знайомства та легкі невимушені розмови за кавою?
Музей еміграції у Гдині створює безкоштовний простір для зустрічей, обміну досвідом та вивчення іноземної мови. Як Ви ставитеся до того, щоб стати вчителем і учнем одночасно? Якщо Ви зацікавлені в участі, будь ласка, зв'яжіться з нами, заповнивши онлайн форму: http://bit.ly/GdnLandSwap
Ми оберемо для Вас партнера для спільної бесіди виходячи з ваших потреб і очікувань.
Якщо це може бути цікаво для когось з Ваших друзів або знайомих, хто щойно переїхав жити до Труймяста – візьміть його з собою! Створений нами простір дозволить Вам провести час у цікавому міжнародному товаристві. Ми забезпечуємо приємну атмосферу, частування, каву та чай. За сприятливих погодніх умов зустрічі відбуватимуться на терасі музею. Модератором Gdynia Language Swap виступає Ана Матусевич.
Ана Матусевич. Випускник російської філології та політології в Гданському університеті, закінчила навчання з управління недержавними організаціями у Вищій школі банківської справи у Гданську. Раніше була перекладачем та координатором проектів, спрямованих на розвиток громадянського суспільства, в даний час є спеціалістом з просування та організації літературних проектів в Інституті міської культури, в тому числі проекту "Європейський поет свободи" та зустрічей Гданської спілки літературних перекладачів «Знайдено в перекладі». Цікавиться репортажами та документальним кіно. Годинами відкриває світ, фотографуючи людей та місця, адмініструє сайт www.JakMalowany.pl, є співорганізатором TRAMPki – зустрічей жінок, які подорожують.
Gdynia Language Swap. Пункт языкового обмена. | бесплатный вход
Вы хотите заниматься иностранными языками и встречаться с новыми людьми за чашкой кофе?
Присоединяйтесь к нашему пункту языкового обмена! Мы приглашаем как иностранцев из Труймяста, так и людей, которые в обмен на практику общения на выбранном языке могут помочь в практике польского языка.
В Музее эмиграции в Гдыне мы создаем условия для встреч, обмена опытом и обучения иностранному языку бесплатно. Что вы думаете о том, чтобы стать учителем и учеником одновременно? Если вы заинтересованы в участии в таком языковом обмене, обратитесь к нам заполнив онлайн-форму: http://bit.ly/GdnLandSwap
Мы выберем Вам партнера для совместной беседы на основе ваших потребностей и предрасположенностей.
Если вы хотите прийти со своими друзьями или знаете кого-то, кто только что переехал в Труймясто, возьмите его с собой! Созданное нами пространство позволит вам интересно провести время в международном обществе. Мы предлагаем приятную атмосферу, угощение и кофе или чай. Если погода позволит, встречи будут проходить на террасе музея. Модератором Gdynia Language Swap будет Ана Матусевич
Ана Матусевич. Выпускница русской филологии и политологии Гданьского университета, закончила факультет управления неправительственными организациями Высшей школы банковского дела в Гданьске. Ранее была переводчиком и координатором проектов, направленных на развитие гражданского общества, в настоящее время является специалистом по продвижению и организации литературных проектов в Институте городской культуры, в том числе литературных фестивалей Европейский поэт свободы и Гданьские литературные встречи «Найдено в переводе». Увлекается репортажами и документальным кино. В свободное время фотографирует, ведет сайт www.JakMalowany.pl, организует TRAMPki – Встречи путешествующих женщин.
Tags: