More than 100 artists, choir, 10 dynamic drums, multimedia with historical photographs and music worthy of the Oscars – "Emigra – The Neverending Symphony" will sound on February 25, 2017 at the Gdynia Arena hall. The performance tells about the experiences of emigration, essential for the composer Jan A.P. Kaczmarek himself. It will be the world premiere of the song written specifically for the Emigration Museum, which is the producer of the event. Tickets are available from 18th January on eBilet.pl, in Empik shops and in the box office of the Emigration Museum.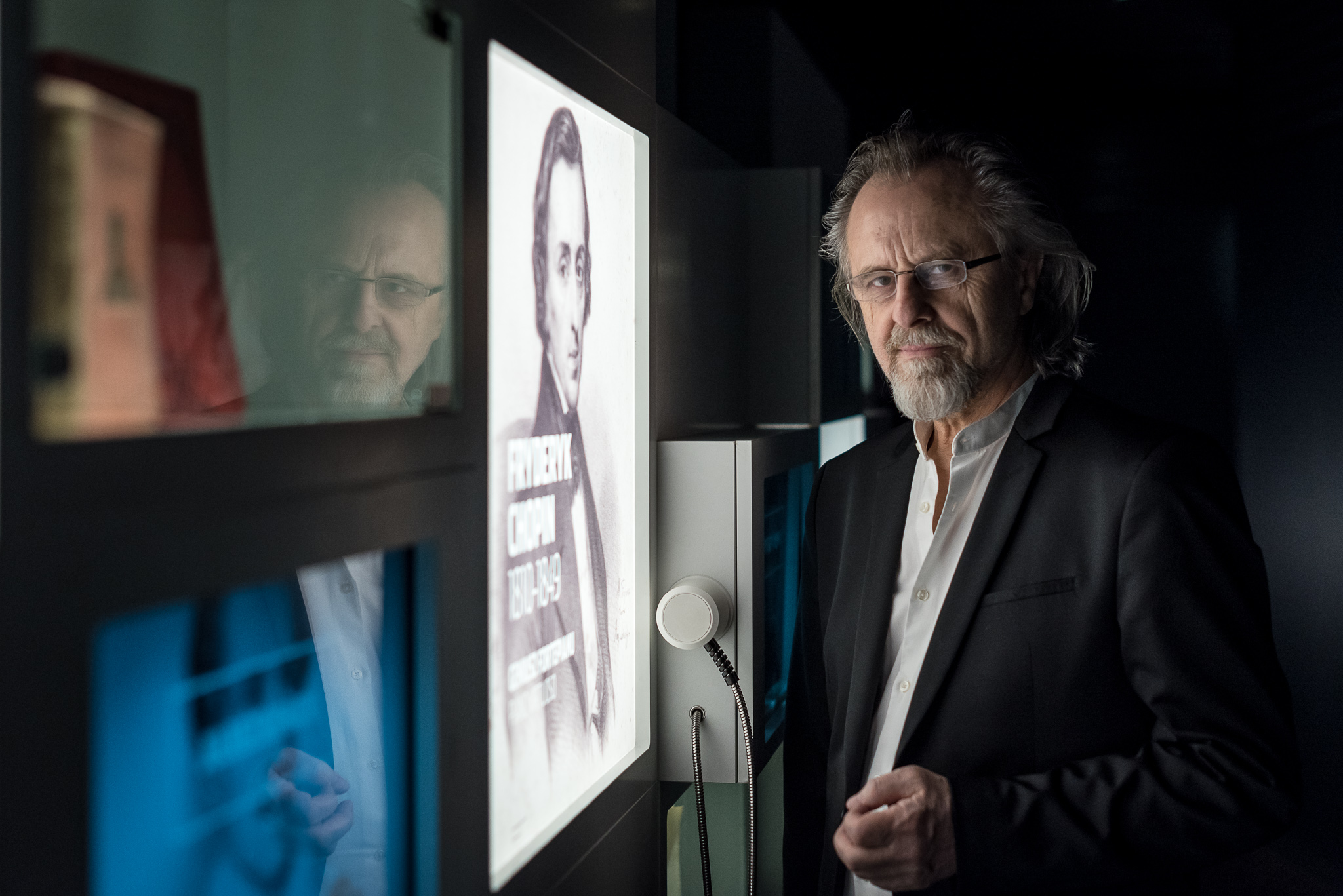 Jan A.P. Kaczmarek at the permanent exhibition of the Emigration Museum, photo by Dawid Linkowski.
Each port city is full of tales. Gdynia in this respect is exceptional – nearly 100 years ago it was erected by people from all over Poland. Here came those looking for happiness oversees, dreaming of a great career in America. It was also the place from which Witold Gombrowicz went to Argentina, and Zbigniew Brzezinski along with his family to Canada. It is no wonder, then, that it is Gdynia where the Emigration Museum was established, the museum which, playing the role of the culture creator, already for two years has been promoting the important and fascinating history of Polish emigration.
– Since its inception, the Emigration Museum has organized dozens of artistic, musical, film, literary and educational events, focusing on the achievements and stories of Polish emigrants – says Sebastian Tyrakowski, deputy director of the Emigration Museum in Gdynia. – "EMIGRA – The Neverending Symphony" by Jan A.P. Kaczmarek is a unique musical performance. It is the first event organised by the Emigration Museum on such a large scale – we present a piece of art composed by the eminent Polish emigrant specially for our museum. I am honoured to cooperate with such a recognized composer and, at the same time, I am proud that we present works of many Poles successful all around the world" – adds Sebastian Tyrakowski.


Conductor Wojciech Rajski, the Polish Chamber Philharmonic Orchestra Sopot and the Academic Choir of the University of Gdańsk have been invited for artistic collaboration at Jan A.P. Kaczmarek's performance. Over 100 artists will perform on the stage! The composer used historical literary material in the work. The orchestral piece will be presented in a modern form with the use of multimedia: light projection and visualization, into which museum collections such as letters, documents, diaries, as well as photographs or personal belongings of traveling emigrants were incorporated. "EMIGRA – The Neverending Symphony", the composition of the outstanding film music composer Jan A.P. Kaczmarek, is a musical impression of the emigration experience. The event is under the honorary patronage of the president of the city of Gdynia – Wojciech Szczurek.
"EMIGRA – The Neverending Symphony"
Composition: Jan A.P. Kaczmarek
Production: Emigration Museum in Gdynia
Performance: conductor Wojciech Rajski, the Polish Chamber Philharmonic Orchestra Sopot and the Academic Choir of the University of Gdańsk
Premiere: 25.02.2017, 7 PM, Gdynia Arena hall
Tickets at the price of PL 25 can be purchased from 18th January on eBilet.pl, in Empik shops and in the box office of the Emigration Museum in Gdynia. Contact with Museum box office: phone +48 58 670 41 61 | kasa@muzeumemigracji.pl