The game is available at the Emigration Museum bookshop and in Empik stores.
Crime and intrigue on the turbulent waters of the Atlantic Ocean. The Emigration Museum in Gdynia has released a detective board game whose action takes place on the legendary M/S Batory ocean liner.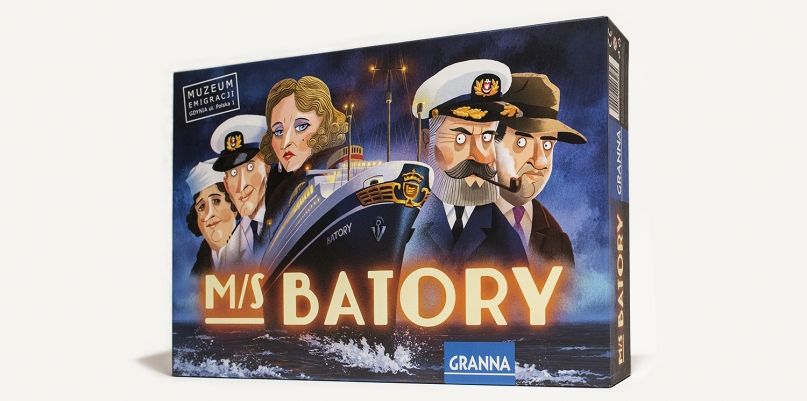 It was supposed to be another calm cruise across the ocean aboard the M/S Batory.The journey from Gdynia Maritime Station to New York City once again attracted on board a great deal of outstanding characters.
Nobody, however, expected that this time the ocean liner will be witness to the scenes as if from the most widely-read crime novels. The impudent theft of the priceless jewels of Countess Pawlicka shocked the passengers and crew members.But it is among them that a thief is hiding…
M/S BATORY is a detective game released by the Emigration Museum in Gdynia, in which players use a three-dimensional, ship-shaped board. Their task is to point the thief as soon as possible. Each of the thirteen suspects has a set of unique characteristics – gender, age and role.Players ask questions to each other and on the basis of the answers exclude the suspects.
The author of the game is Filip Miłuński; it was illustrated by Adam Pękalski. The contribution in the game preparation was also made by Grzegorz Rogowski, an expert on the Batory ship, the author of the book Pod polską banderą przez Atlantyk (Under the Polish Flag Across the Atlantic).
The game was released by the Museum in cooperation with GRANNA. The international premiere took place in October at the SPIEL '17 Fair in Essen.
In Poland it was presented for the first time at Let's Paly Festival as a part of the Fun and Games Fair in Gdańsk on November 18-19.
The game is available at the Emigration Museum bookshop and in Empik stores.
Suggested retail price: PLN 119.
The game is intended for a group of 2-4 people over 12 years of age.