Every Tuesday from 10 AM to 11.30 AM there will be quiet visiting hours in the Emigration Museum in Gdynia.
It is an initiative addressed especially to people on the autism spectrum, with high sensitivity, and all those who appreciate visiting the exhibition in silence.
During the 'Quiet hours':
loud sounds at the exhibiton are turned off,
please mute the phones,
please avoid (especially loud) conversations,
there are no tours for groups,
no events are organized.
Some of the stimuli in our exhibition cannot be turned off. They are lights, smells and some sounds. They have been marked (in Polish) on the map below: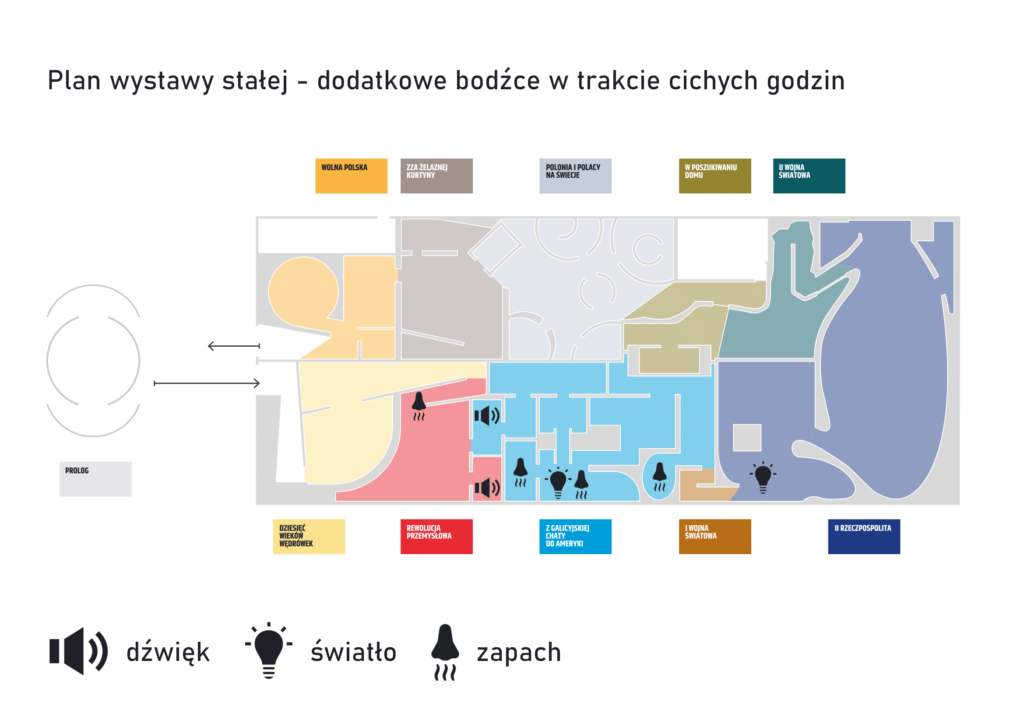 Details:
The Industrial Revolution:
The Industrial Revolution –smell of grease,
The countryside in a time of change – audio recordings.
From Galician cottage to America:
The story of one journey – sounds of farm animals,
Voyage across the ocean – the smell of the breeze, blue lighting imitating the sky while traveling by ship,
3rd class cabins – smell of moisture,
Brazilian fever – sweet fruit smell.
The Second Polish Republic:
Building a port in Gdynia – a very bright room contrasting with the neighboring rooms.
Extra amenities
At the Museum ticket office you can borrow noise-cancelling headphones available in sizes for children (3 sets) and for adults (3 sets).
Our Pre-Guide (available in Polish) will help you prepare for your visit to the Museum even better. It approximates the course of a visit to the museum and shows what to expect during the visit.
We prepared it together with students of the Special School and Educational Centre No. 1 in Gdynia (Specjalny Ośrodek Szkolno-Wychowawczy nr 1 w Gdyni).
The pre-guide will start to download after clicking on this linked text.
Before the visit, you can also watch a virtual walk around the building, which allows you to get acquainted with the space of the Museum in advance. Watch a virtual tour.
For children, we have prepared a short film guide on how to plan a visit to the museum and have a good time. The film was prepared in cooperation with children. The recording includes subtitles and a Polish sign language translation. Watch the video "How does the museum work and why is it great?".