Environmental declaration of the Emigration Museum in Gdynia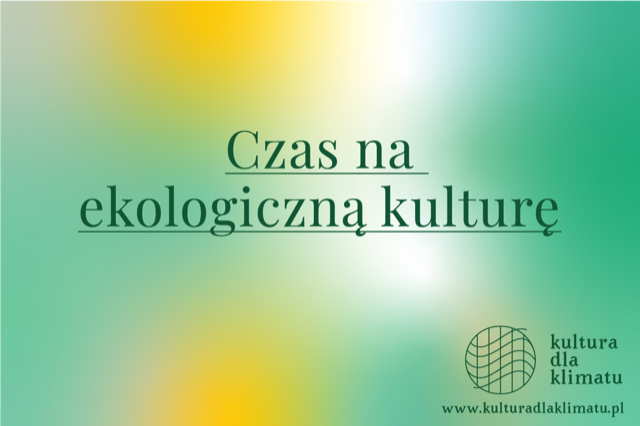 The Emigration Museum in Gdynia strives to present various dimensions of migration – including migration resulting from climate change. Climate change, which has picked up at an astounding pace, as well as environmental disasters caused by them, may lead to a situation where a large part of the land that is currently inhabited becomes unfit for human habitation. According to the World Bank, today there are more than 80 million climate refugees in the world, and it is estimated that by 2050 their numbers will grow to at least around 140 million.* On a global scale, climate change will thus become one of the most important drivers of migration processes. The Emigration Museum in Gdynia wants to take an active part in the debate concerning this matter, as well as to join in the search for the solutions to these challenges. As signatories of the Culture for Climate declaration – a grass-roots initiative, which envisages making culture greener – we strive to minimise the environmental costs of our operations, as well as our carbon footprint in our immediate surroundings.
What do we do?  
We reduce our paper consumption: 
We print only the minimum necessary of flyers, posters and other promotional materials;
We use recycled office paper featuring Ecolabel and Forest Stewardship Council certificates;
We print documents on both sides of the paper;
We recycle printed materials (posters, leaflets) during educational workshops.
We reduce our water consumption:
All of the taps in the Museum are equipped with aerators, which limit the outflow of water, as well as motion sensors on water taps and dispensers;
Our employees and associates have access to filtered tap water.
We reduce our energy consumption:
The museum spaces are lighted mostly with LED lighting;
The power to the permanent exhibition turns off automatically when the museum closes;
We use equipment with a high energy rating;
We encourage our staff to turn off computers, printers and other office equipment when they are not in use;
Motion-activated lighting has been installed in the passageways.
We reduce the use of plastics:
We decided to replace plastic cutlery, cups and plates in favour of biodegradable cups and cutlery made of plant-based materials;
We reduced our consumption of mineral water in plastic bottles in favour of serving filtered water or water in glass bottles;
We use environmentally-friendly and recycled materials in our educational activities.
Grass-roots employee initiatives:
Givebox – a place where all employees can leave items they do not need anymore, which can then get a second lease on life. Things that are not picked up by a new owner are donated to a charity shop in Gdynia;
SWAP – clothing swaps organised periodically among employees as part of team-building activities, enabling them to get rid of things they do not need and find new owners for unwanted clothes.
We segregate waste – all waste on museum grounds is segregated.
We educate ourselves and others:
Our employees learn how to run a 'green cultural institution' during workshops organised and hosted by experts;
We talk about ecology during our educational activities with children and youths, as well as in our programming for adults – including our meetings with experts, podcasts, and radio plays;
We have decided to dedicate 2021 to the topic of Change – including climate migration. Polski Przegląd Migracyjny [Polish Migration Review] – a journal published by the Museum, is devoted in its entirety to this subject. Open access to it is available in various user-friendly formats on our website. 
In addition:
We try to reuse elements of temporary exhibitions when building new ones. The Climax temporary exhibition was built in its entirety from the elements previously used to build Carboland. We do our best to make them out of environmentally-friendly or recycled materials;
The Museum is easily and safely accessible by bicycle, which can be parked in several parking lots;
Every year, we take part in the annual Cycling to Work campaign, which rewards employees who cycle to work;
We are also participating in the EKOlogiczni w biznesie [ECOlogical in Business] programme.